Horse Manure Management and Composting
An average 1,000-pound horse will produce 9 tons of manure a year or 50 pounds per day, not including bedding. You get about 2 cubic feet per day of manure and bed waste or 730 cubic feet per year from one horse. How the manure is stored and treated will have an impact on its value. A composition of manure and bedding is rich in nitrogen, phosphorous and potassium.
You can't do anything about the amount of manure your horse produces. Therefore, practicing appropriate manure management is essential, from the largest to the smallest of farms. Manure management is important for the health of the horse and your family, avoiding controversy with neighbors, and to comply with state and county regulations. Horse owners have a responsibility to manage their horse's byproduct.
You will need a strategy for using it or disposing of the manure. Horse manure is a valuable resource. A large percentage of nutrients fed to your horse will pass directly through into the manure. These nutrients can be returned to the soil and made available to pasture, lawns, landscaping, crops, and gardens. (Source: FrontRangeFrenzy.com )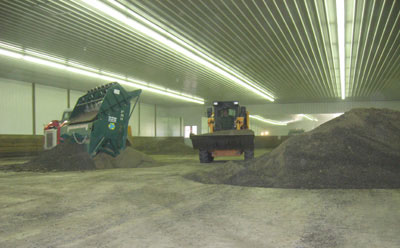 OMH PVG-12V screening the surface of a horse arena.
Bucket Tractor, the PVG 12-V Soil Screener and Composting Animal Manure
More states are forcing land owners with small farms, owning cows, horses, goats, sheep, chickens, etc. to have a surface water runoff management plan.
At 1400 lbs the OMH ProScreen PVG-12V will give compact tractor owners on small and medium farms the ability to compost excess farm produce, animal bedding and livestock manure into fertilizer and topsoil as well as the means to screen for gravel, arena sand and rocks.
Composting has been found to be not only one of the most economical means of dealing with farm waste and surface water runoff, but can produce high quality topsoil for resale.
The OMH ProScreen PVG-12V is an essential asset in a small farm composting program. The PVG-12V vibratory screener has the ability to screen, presize, and blend manures, organics,hay and straw, woody debris and animal bedding in preparation for the composting process. Presizing your compost will shorten the start to finish time dramatically. Having long and short term compost piles will also more than double the annual yield of your composting program.
When the PVG-12V is done helping you with your composting needs, you can put it to work screening gravel for roads, or screening rocks and debris from riding arenas on equestrian farms in your area.
The OMH ProScreen PVG-12V is very portable, and user friendly. At $6599 USD (delivered to your door Lower 48) and the ability to screen up to 30 yards per hour, the PVG-12V is a must-have tool for you and neighboring farms. (Check out the photos below showing how easy it is to move and position the PVG-12V soil screener with your bucket tractor.)