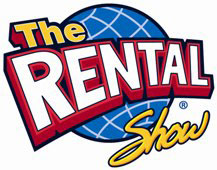 March 5, 2010 - The American Rental Association Rental Show in Orlando, FL, is over but not forgotten. The March issue of the ARA magazine features an article about Brad and Darren's Road Trip to The Rental Show.
Stopping along the way at equipment rental stores to demonstrate the PVG-12V battery-operated soil screener AKA The Green Giant.

Had a good visit with Tom, manager of ABC Rentals in Bozeman, Montana, who had great things to say about The Green Giant.

"Stopped at A-One Rentals. They were closed for the day but we left our information and DVD."

Entering Wyoming Friday night, Jan 30, 2010. Spent the night in Casper, Wyoming.

"It's dark and 32 degrees in Wyoming." Brad said when told it was 77 degrees in Orlando, Florida.

Darren says "Hello from Cheyenne Wyoming. Tried to trade two topsoil screeners for one airplane but the Air National Guard was NOT interested.

"We just left Wyoming and entered Colorado 12 noon Saturday, Jan 30, 2010. We could only find one of our screeners. Has anyone seen the other one?"

EDITORIAL NOTE: Brad to Darlene, with Darren in background, "We lost a ski not a screener. A SKI! Get it, Colorado, ski country. We lost a ski, not a screener" dcb Got it.

Stopped at Dan's Rentals and we visited in the parking lot for awhile. After Dan looked at our Green Giant soil screener and all it could do, in his own words: "I did not realize I need one until now."

We left our literature and he'll see us in Florida at The Rental Show.

Brad and Darren enter the Great State of New Mexico 6pm, Saturday, Jan 30, 2010.

Darren was glad to see his home state Texas. There are lots of rock in EL Paso so it did not take long to draw a crowd at Office Depot where they stopped to pick up some paperwork. The first guy they spoke with was familiar with Proscreen and actually worked for a concrete company and while they were talking to him other people stopped by. El Paso was so great they ended up staying the night and plan on calling rental companies in the morning before hitting the road again.

Darren, from Texas, showed Brad, from Washington, all about Texas cooking. Brad ate a Texas Stuffed Potato and has now sent for his belongings from Washington.

Brad gets a Texas Flat Top!

Tuesday February 2, 2010 6pm (PST)

Brad and Darren have crossed into Louisiana and are heading toward Alexandria. They plan on pulling into Orlando on Friday, Feb 5.

Brad and Darren had dinner (good food) in Biloxi, MS at the The Blow Fly Inn. An appealing name for a restaurant.

It was totaled in Hurricane Katrina. When they rebuilt they put it on 20 foot stilts.

"When you're sitting there eating you can feel the building sway back and forth."

Mr. Donald Busby of Busby Apiaries, Angie, Louisiana, has great things

to say about his PVG-12V soil screener dirt sifter. He gave Brad and

Darren two quarts of his honey. Click here to read his full comments.

"Darren must really like this particular building. I don't know why he wantedhis picture taken in front of it. He looks puny." Direct quote from Brad

OMH ProScreen USA at The Rental Show in Orlando, Florida. Booth #4728

Brad and Darren with Sponge Bob Square Pants at Universal Studios'

New York City Nights Event. Wow! Sponge Bob!

All is not what it seems. Upside down building.

All You Can Eat Lobster eating a Volks Wagon Bug!

Darren at Universal Studios' New York City Nights. Looks like a blast!

The Blues Brothers in concert at Universal Studios 02-09-10

"ProScreen Vibrates You All the Way from Washington State."

There's gonna be a good story behind this and we are all

waiting to hear it ...