Portable, Affordable, Efficient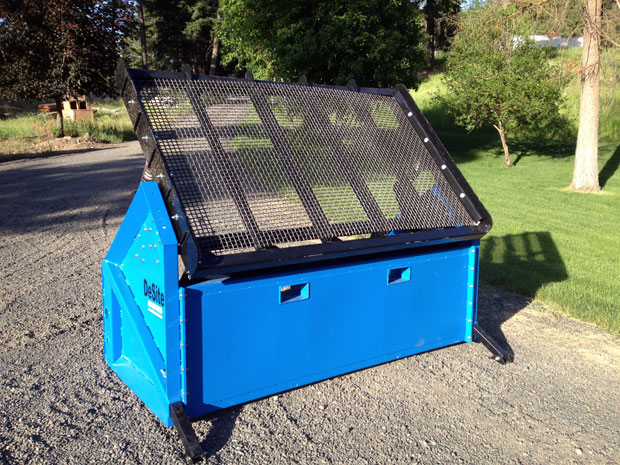 If you have ever wanted to own a portable compact screener, look no further than the SLG-78VF for $5,295 Recovering good soils and rock from waste material is what this machine was designed to do. Other screeners designed to work with compact equipment start at $9500.00 and go up from there. You will also find that conventional box screeners must be towed, or a separate trailer is needed to haul it to the worksite. Making a separate trip to transport a screener to the worksite is often not cost effective for smaller jobs.
The DeSite SLG-78VF has changed all that with our compact portable vibratory screener design. It is specifically designed to work with your compact equipment to recycle and reclaim material in your yard or at the work site.
The overall width of the screener is 96 inches so that it can be loaded crossways on the trailer. The inside box measurement is 90 inches so your will have 9 inches of clearance on each side. The 78 means that you can use up to a 78 inch bucket to feed the screener. 
Here is what sets the SLG-78VF apart from others screeners:
Screen Deck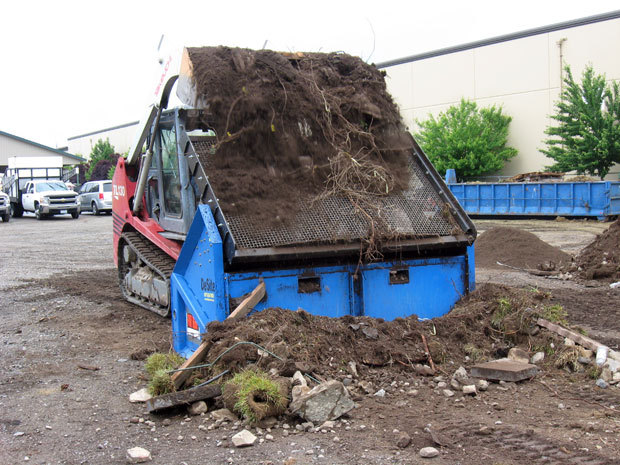 The SLG-78VF has a 52" x 80" screen mesh giving you more than 30sq/ft of screening surface. This is more than any other screener in its class. We have designed our machine so the screen deck is wider than your bucket. Using a screener with a deck that is narrower that your bucket doubles or triples the volume of material on the outside of the screen deck .
Screen Mesh Options
We stock and offer mesh sizes from 1/8 to 4 inch in both square pattern and elongated mesh for high moisture soils.
Vibratory System
The SLG-78VF comes fitted with a 110 volt maintenance free sealed vibratory pack . It turns at 3600rpm giving 700ft/lbs of thump and mounts to the underside of the screen deck.
Power Source
Other screener designs mount their engine direct to the screener. We find that having an engine operate so close to all the dust coming from the screen deck can be very hard on the engine. Our new concept screener design gives you the ability to move the engine away from the dust. The SLG-78VF can be powered with a generator a small as 1500 watts from up to 150ft away, when using a good quality extension cord. The ability to have your engine away from the dust extends motor life and lowers operating costs.  Ask us about the DeSite heavy duty 25 foot 10 gauge twist lock power cord.
Screen Deck Slope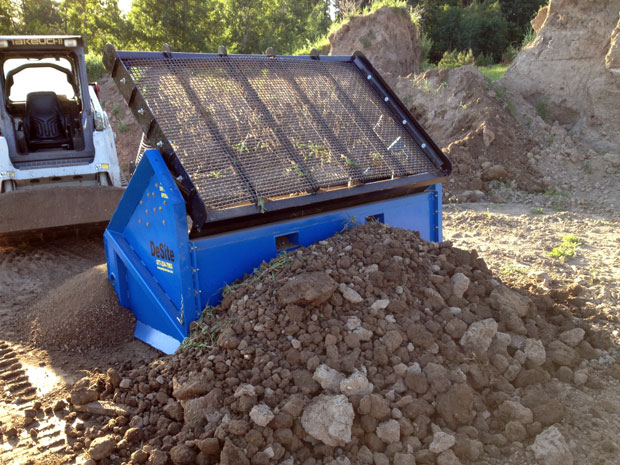 The SLG-78VF is the only screener in the industry that allows an operator to change the screen deck slope while screening. Wet material with high moisture often plugs up screeners with a 30 degree fixed deck slope that cannot be adjusted. The screen deck on our SLG-78VF can operate at 45 degrees when screening wet and challenging sand and soils. The SLG-78VF will allow you to screen when other screeners are waiting for better weather.
When screening in rock or drier materials the operator has the ability to flatten the screen deck to 30 degrees by simply compressing the screen deck with the bucket while feeding the screener. Only DeSite screeners offer this kind of versatility.
We offer multiple videos of our screeners in action working in multiple types of materials from topsoil to sand, rock, gravels, asphalt grindings wood and more. Request a video and we will be happy to send one out to you.
Versatility
For under 11k you can own two of our SLG-78VF machines and be screening 3 or 4 products all at the same time. Work them together or independent of each other, making multiple rock and sand products. This save time and money because you will not be stopping to change mesh sizes.
Portability
Because we have years of experience actually working in the dirt, we have a solid understanding of your screening needs. We also recognize that as our countries utility and infrastructure ages, compact equipment is often used in maintenance and repair. That is why the DeSite SLG-78VF has been designed to be just 96 inches wide.
This allows SLG-78VF owners to load their screener crossways on a trailer and still haul their skidsteer, excavator, or bucket tractor. No other vibratory screener in North America offers this kind of portability.
The SLG-78VF loads and unloads in literally seconds so now you will have the ability to screen and recycle on every job, even the small ones.
Durability and Design
DeSite broke with tradition when designing the SLG-78VF. We have no pivoting parts that require service or grease because the cantilevered screen deck is held in full suspension with our opposing C and coil spring design.
The SLG-78VF's is a durable design weighing in at 2000 lbs . Our screeners are laser cut from mill certified plate, CNC formed, and wire feed welded. When you look at the simple but durable design of the 78 you will see the DeSite difference.

We are so confident that you will love this machine that we offer a
"CUSTOMER SATISFACTION QUALITY ASSURED MONEY BACK GUARRANTEE". If when receiving the machine you do not agree that this is the best $5295 that you ever spent on a screener just return it.
The video below shows are model SLG-78VF with the new Feeder System.
If you need a bigger screener for your Backhoe or Wheel loader visit our website.
For more information or to request a video, go to idmcabc.com or call us at 
877-254-7903.
We know that you are busy working during the day so we welcome your calls after hours for your convenience.
Don't miss this opportunity to own the Worlds Most Portable and Affordable Vibratory Screener on the market today for only $5295.