Question about screening wet material
I have a property that has pit run gravel and also a sand filled dirt and loam that is pretty wet and need to screen the gravel out of it.
It is actually dug out of a creek bed so starts very wet - they let it stand for a while and then screen it so it is not dripping wet.   Needs info on screen type/size  and how to best screen this material - vibratory ?  feed deflector? Etc….
Answer:
The one thing going in your favor for screening is the fact that it seems to be a sandy loam.  Ask yourself the question as to how large of a stone that that you can accept in your soil.
When choosing a mesh size take note that the size of your finished product will always less than the opening in your screen mesh.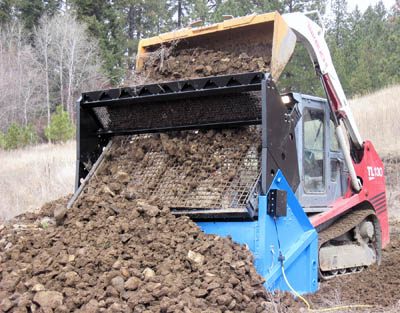 Screening Wet Material
Example:  1" mesh will usually make a 3/4 inch product. A 3/4 mesh usually will make a 1/2 inch product and 3/8 will make a 1/4 product. You also should consider using an elongated mesh when screening your soil when moisture content is high. When buying an elongated mesh, try to buy what we call a triple chute weave. We use a 3/4 x 4 inch pattern when we are building our screeners, as we find this makes a 1/2 product and will handle very high moisture and will resist binding.
In regards to the Feed Deflector, the deflector will work well for you when screening gravel and wet soil.
The SLG feed deflector was designed to enhance efficiency and production. It makes feeding the screener much easier for the operator because he has the ability to just drive up to the screener and dump the material directly on to the feed deflector. The feed deflector stops the forward motion of material that is coming from the bucket and directs it down to the top of the screen deck.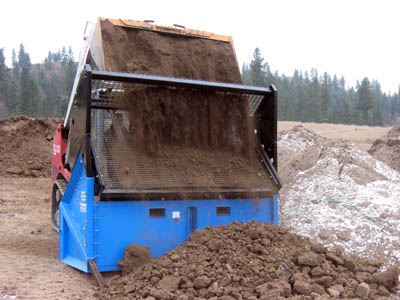 DeSite Screener shown with Feed Deflector
We have developed a 3/8 thick rubber mat that clips on to the top of the Feed Deflector covering the deflector mesh and then turns down covering the entire screen deck. This traps the material between the mat and the screen mesh, keeping the rock in contact with the mesh and also controlling the flow.  When screening soils with high moisture you will want to remove the rubber mat on the feed deflector.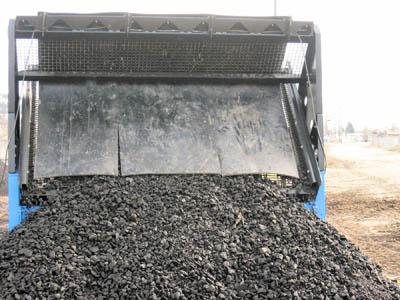 DeSite Screener with rubber mat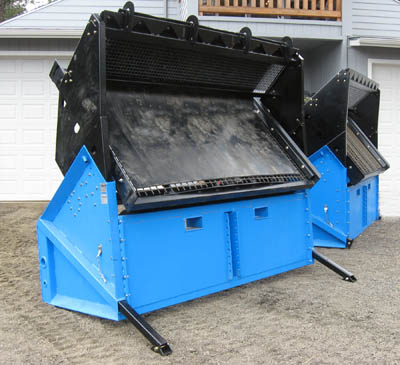 DeSite Topsoil Screener Shown with with Feed Deflector and Mat.