Portable Vibratory Topsoil, Rock, Dirt Screeners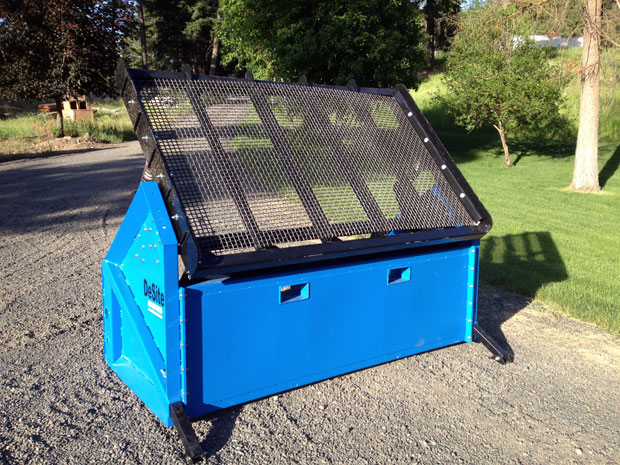 Bruce Vitale, an OMH ProScreen dealer, was at the Trade Show in New York.
NSLGA Professional Turf, Plant & Tree Conference
Tuesday, February 25, 2014 - Nassau Veterans Memorial Coliseum - Uniondale, New York.
The DeSite SLG-78 and SLG-108 were featured.
---

OMH ProScreen USA will be featuring the PVG-12V Topsoil Screener at the Oregon Loggging Conference
72nd Annual Oregon Logging Conference Presents:
Logging, Construction, Trucking and Heavy Equipment Expo
Thursday, February 25, to Saturday, February 27, 2010
Eugene, Oregon
"The Oregon Logging Conference is packed with unique opportunities for forestry professionals to network and learn more about their trade. The 2010 conference will certainly live up to its reputation as being one of the best logging equipment shows in the west."
- Ed Hendrix, 2010 OLC President
---

ARE Rental Show Feb 7 - 10 2010 Orlando Florida
Brad Hilmoe and Darren Kirkwood will be representing OMH ProScreen USA at:
The ARA Rental Show February 7 - 10, 2010
in Orlando, Florida
Stop by and see us at Booth # 4728
Featured will be the OMH ProScreen USA Portable Vibratory Grizzly (PVG)
Soil screener PVG 12V 7ft
Screens two products, works with buckets up to 72 inches in width.
4x7 screen deck, weighs 1400 lbs
This portable vibratory screener is constructed of heavy duty 3/16 plate with 1/4" reinforcing. This unit can be moved in seconds by simply sliding the cutting edge of the bucket into the lifting lugs on the front of the machine and transporting it on the job site where you need it.
We look forward to meeting you at Booth # 4728!
---

National Heavy Equipment Trade Show
OMH ProScreen USA was represented by Brad Hilmoe and Darren Kirkwood of OMH ProScreen USA at the National Heavy Equipment Trade Show at the Toronto International Center, Toronto, Canada March 5 and 6, 2009.
They featured the Portable Vibratory Grizzly (PVG) series of soil, rock, sand, dirt, and gravel screeners, in particular, the newest model the PVG-12V.
---

Landscape Ontario Congress
Brad Hilmoe and Darren Kirkwood of OMHProScreen attended Canada's 36th International Horticultural Lawn and Garden Trade Show and Conference, January 2009, at the Toronto Congress Centre.
The theme this year was "Go Green Today" and featured the Green Forum for landscapers, nursery owners, soil recyclers and developers.
OMH Innovations showed the Portable Vibratory Grizzly (PVG) series of soil aggregate screeners. OMH units are designed to efficiently screen for different sized materials for recycling and reuse thereby reducing dumping and landfilling.